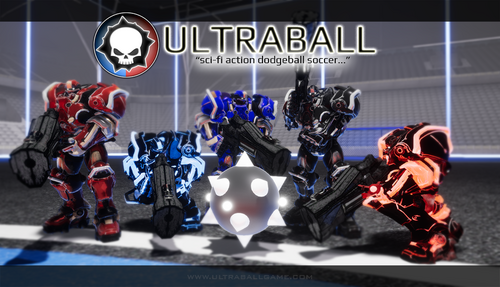 First off let me apologize if the format of these blogs are a little informally typed sometimes, a lot of time is spend working on the game and blog entries are done on the fly from an iPhone!
Happy to announce most of the mechanics are complete for the normal Third Person/First Person mode Ultraball (Vanilla).
We are planning to do some East Coast USA Multiplayer Testing on our Dedicated server to judge game flow of these mechanics. Tentative Details can be found on our Discord #UPDATES – At the moment 6PM EST August 6th.
This Release includes the following.
Overall Game:
Updates to Menu, animation etc.
Ultraball Mode:
Updated Arena Map (Cosmetics)
Implementation of Shield Over-Charge (Hoisted if held to long.)
This charges over 5 Seconds and Cool's down at half speed.
Some sounds added.
Some minor effects added to the ball.
Ball Timer added (keeps can only hold the ball in goal area for 10 seconds.)
This will recharge when they do not have the ball.
Ball Timer is seen as a green progress bar under players health
Other future modes may take advantage of this "Hot Potato"
Next Up:
Implementation of Key Rebind System
Implementation of Graphic Settings Menu.
Magnet Graphic effect (Lightning Chain when ball is being influenced.)
Magnet Sound effect (Buzzing and Crackle when ball is being influenced.)
Later:
Hud Preferences and Player Settings
Map ambient sounds
Audio Sliders
Instant Replay of Goals.
Files
Ultraball_vAlpha Test9.zip
404 MB
Aug 03, 2017